Do you deliver and how much will it cost?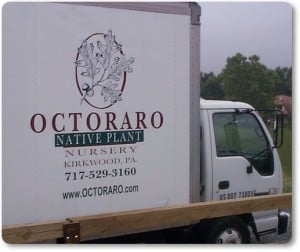 Yes. A $1,000 minimum plant order (products not included) is required for delivery (delivery charges not included). Freight costs are based on the size of the order, fuel prices, mileage to the destination and whether we can combine with other orders on a truck. Freight costs are calculated prior to the actual ship date. General freight estimates can be provided upon request.
We deliver in PA, DEL, MD, NJ, NY and VA in our own trucks. Deliveries are scheduled 7-10 days in advance. Tractor trailer deliveries are available for larger orders or locations outside the region.
What information do you need for delivery?
We need the following information:
Site Contact Person
Contact Person's Cell Phone
Physical Street Address (or directions if no address available)
Assistance with unloading and accepting of plants – Our drivers get plants to the tailgate.  Depending on size of the order, the customer is responsible for providing labor to assist with unloading of plants.
Products – if your order contains heavy products such as stakes, it is very helpful for everyone to have equipment with forks on site to unload pallets.
Can I pick up my plants?
Yes. Please provide a minimum of 72 hours' notice of your intent to pick up your order so we can have it pulled and ready when you arrive. We have multiple growing locations that may require us to collect and assemble your order at our main location in Kirkwood, PA. 
Minimum order for pick-up is $500. 
Pick up times: Tuesday through Friday, 8 am to 3 pm.
Click here to get directions to the nursery.
Can you ship plants via UPS?
No, sorry. We can only ship our plants by truck.